There is countless BIM software on the market, and it is not always easy to choose. 🥵 So, we've listed for you, the best BIM software to use in 2022.
As always, before finding the right software, you need to define your needs.
Are you looking for a tool to create a 3D BIM model?
For document management on a construction project, to control the quality of models, or to automate your reporting?
For a point cloud, asset management, or planning?
There are countless types of BIM software, and it is not always easy to differentiate and categorize them.
So, we've put together a list of the best BIM software to use in 2022.
Most of them are part of the most popular BIM software.
We have added to the list a few little gems 💎 that we think are still too little known.
Therefore, here's our list of the best BIM software to use in 2022 in our opinion.
We hope this blog post will help you see it more clearly.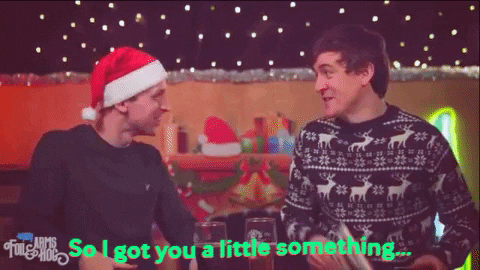 ---
The BIM modeling software 📐
To work in BIM process it is necessary to model the buildings, and for that, you will need modeling software. Here is the most popular BIM modeling software:
Revit
Revit is one of the most famous software from Autodesk, it is our favorite modeling & plans creation tool.
It is a BIM (Building Information Modeling) software made for designers, builders, and creators.
It allows you to model buildings in 3D (shapes, structures, systems) to better coordinate the various trades on the construction site. Detect clashes or perform quality controls.
And many plug-ins are available for specialties like point cloud or thermal calculations.
You can even create your own if you know how to code.
Moreover, the tool is complex to learn, but there is a large community, so many forums and tutorials, which makes it easier to learn to use it. 👌
Exporting to IFC is not that easy, but there are lots of tutorials too.
Revit offers a free trial, and pricing starts at $2675 per year.
Capterra note: 4,6/5 ⭐
Archicad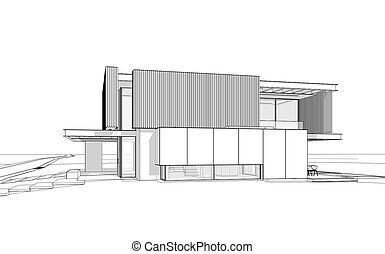 Archicad is a BIM Architecture tool, a collaborative solution dedicated to architects.
It allows to model a building in 3D and to establish different types of documents necessary for the construction project, such as plans, cuts, lists of objects or perspectives, and elevations.
It is an OpenBIM solution, which can create and read data in .ifc format.
Exporting to .ifc is relatively easy to do.
Archicad pricing starts at $2250 per year, a complementary 30 days trial is offered.
Capterra note: 4,4/5 ⭐
Allplan
It is a computer-aided design software, created by the Nemetschek group.
Allplan developed different solutions for different needs of the AEC industry :
Architecture,
Building engineering
Precast Buildings
Rebar detailing
Civil engineering,
And, BIM collaboration
The export to .ifc is limited because not all parameters can be exported.
Allplan basic plan costs $1435 per year.
---
The BIM Analytics software 📊
Many fields have been using analytics for years, but it is still not used enough in the construction industry.
Doing Analytics from your BIM data and other data sources on your construction projects allows better risk management and thus, a cost reduction.
It allows you to aggregate different databases together and have automated reporting with relevant KPIs to increase profitability.
But also to answer more easily your financial, legal, and environmental challenges.
SeveUp
SeveUp App allows you to transform the data of your BIM models into real insights understandable by everyone, even non-BIM specialists.
Create your own dashboards, for your clients, your teams, or yourself.
Reporting, quality control of the BIM model, 4D planning, space management, Key performance indicators…
Data visualization is the best way to help you meet your challenges, whether they are environmental, legal, or financial.
-> 14 days free trial with no obligation, test it now: https://www.seve-up.com/en/
We've created a toolbox with even more BIM software to boost your construction projects & productivity.
---
BIM model checking software 🔎
To work in BIM process, you need a BIM model, but above all, you need a qualitative BIM model!
It is important to ensure that it is qualitative because the purpose of BIM is not the model but the uses that result from it.
Uses such as: quantity control, 4D planning, program control, KPIs…
And, if the data in the model is not all accurate, then the resulting uses are bound to be distorted.
Therefore, it is imperative to verify the quality and conformity of BIM models.
Solibri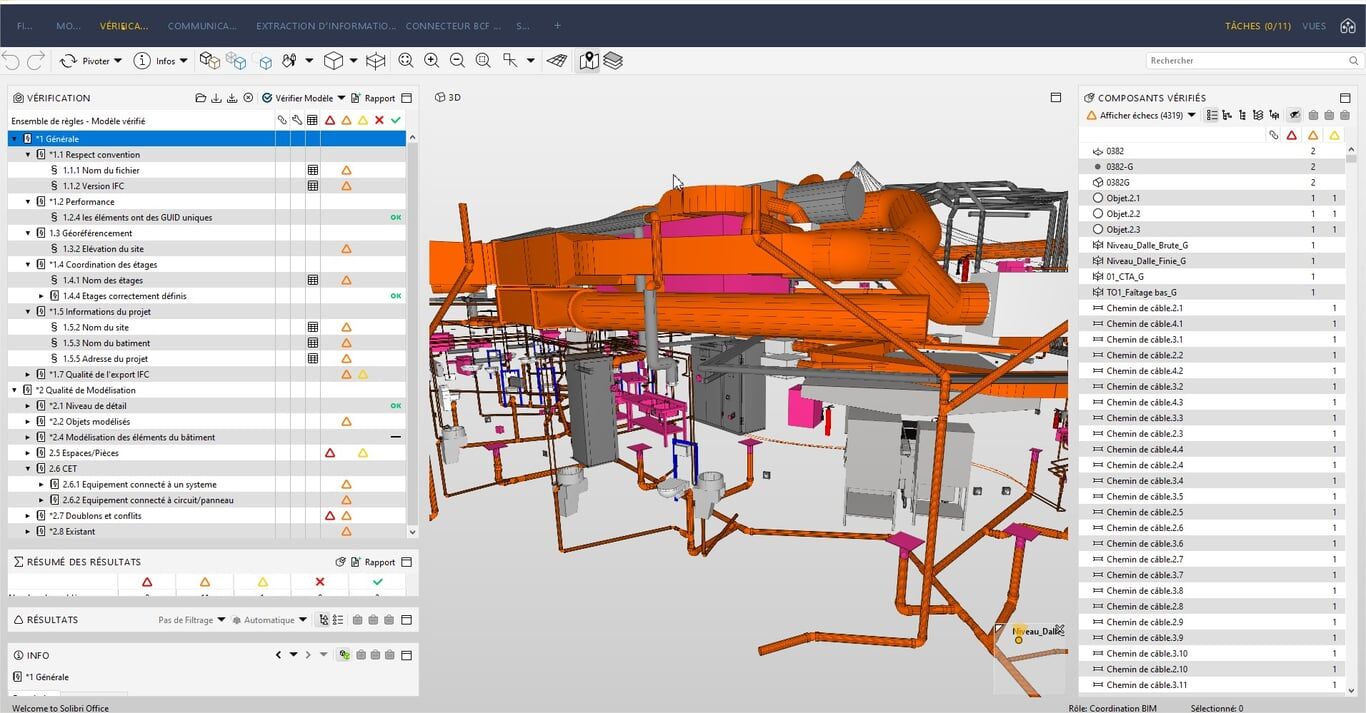 Solibri allows you to control the quality of a BIM model.
Describe the BIM rules and then check with the data present in your BIM model.
You will end up with a list of objects to check with a 3D viewer in order to identify each object.
Model Checking, Quality Assurance, Analysis, and Code Compliance.
However, it is a technical tool that requires some knowledge, a great tool but complex to learn.
Solibri starts at 280 euros per month.
👉 A little bonus by compiling it with SeveUp App :
You can extract from Solibri the link between windows and spaces, in Excel.
Then, connect this database to your checker dashboard on Power Bi.
You will find the Checker dashboard to download directly on SeveUp App.
Bimsync
Control your BIM models thanks to the BCF server.
Find more about this tool just below.
SeveUp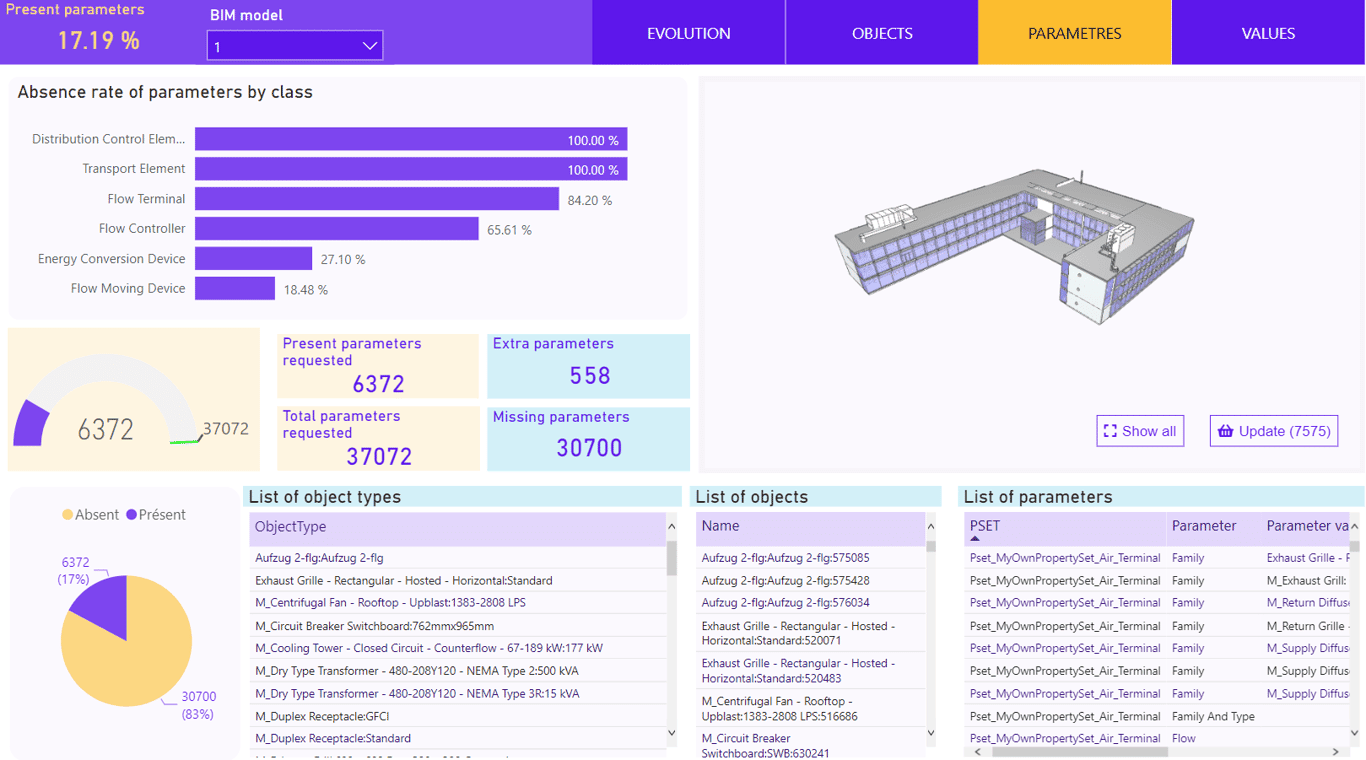 With SeveUp App, you can control the quality of your BIM model thanks to a BI (Business Intelligence) dashboard.
Basically, you can get easily a sharable dashboard and control classification, codification, the presence of parameters, and parameters filling.
Read more on the BI method here.
Link to the complete toolbox with even more great tools.
---
4D planning software 📅
4D planning is a practice that is more and more used in the construction world.
This practice links the site schedule to the 3D BIM model in real-time.
This practice allows to anticipate the possible risks to come on the building site, and thus optimize the construction project. 🏗️
Initially, it was a sequence of images in video format, but new tools are evolving this practice and making it more manageable and accessible.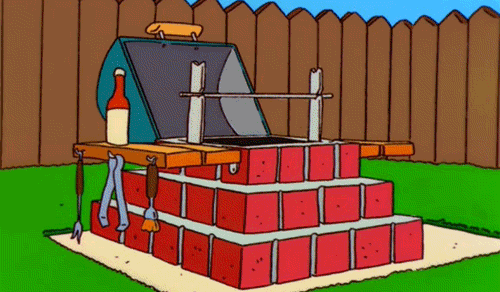 So, you don't want your building to look like Homer's barbecue, do you? 🤭
Synchro
Synchro is a Bentley tool.
It is a complete portfolio of integrated field-to-office applications for digital construction management and estimating.
It's useful for 4D planning, you can link schedules with objects from your BIM model and then export a video for the project owners.
You can also use it to describe quantities, QTO (Quantities Take-Offs) for example.
Synchro offers a 30-day free trial.
Capterra note: 4,7/5 ⭐
Navisworks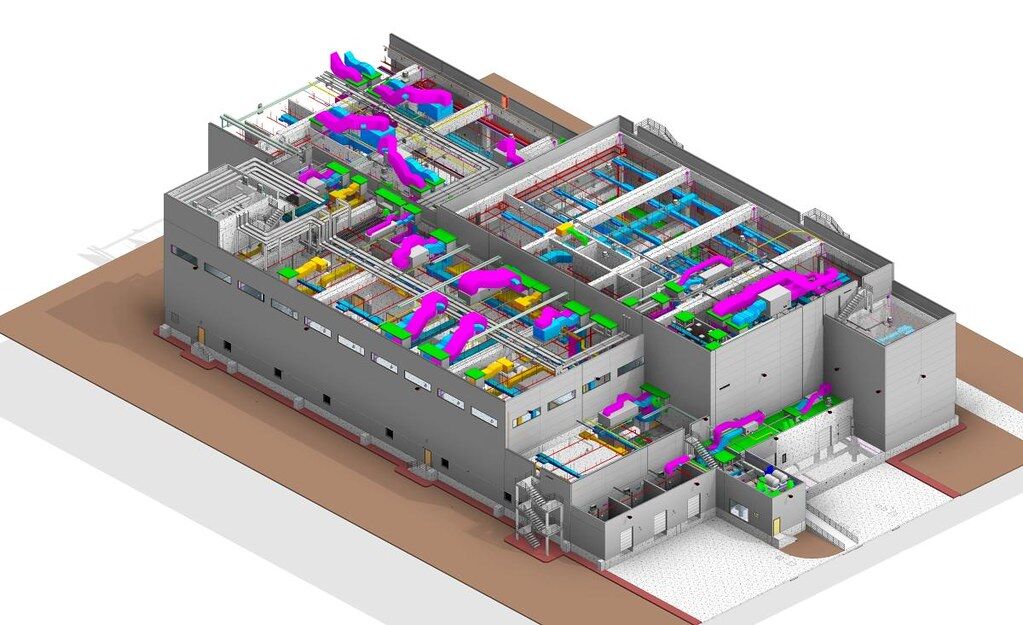 Navisworks by Autodesk is a project review software designed to improve BIM coordination.
Like Synchro, Navisworks is a 4D planning tool, you can link schedules to BIM objects.
It also allows you to make clash studies and identify interference issues.
Use Navisworks Manager to control your BIM models.
Navisworks plans start at $1020 per year, a free trial is available.
Capterra note: 4,2/5 ⭐
SeveUp
The 4D experience is no longer reserved for specialists, it becomes accessible to all, with ease.
Access a dashboard linking the schedule to the BIM model.
Check-in real-time the progress of your site compared to the forecasted progress.
Most importantly, visualize the progress, and the areas of delay or risk by interacting with the 3D viewer to have a higher level of information.
Since tasks are associated with equipment in the model, when you select a date you see the objects in the viewer.
---
The DMS Document Management System software 📝
What would a BIM project be without a DMS?
The DMS is the tool at the heart of the project allowing collaboration between the different specialties and actors.
DMS stands for Document Management System.
It is the space where all project information is collected, managed, and stored.
It is the memory of the project. 🧠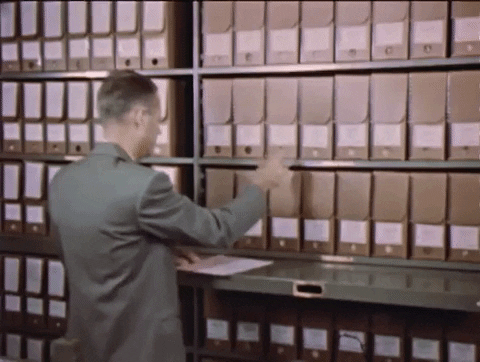 Kairnial
Kairnial is an online collaborative platform that allows you to digitize your business processes and control your asset data.
DMS, construction project follow-up, viewer, BIM data management, inspections, and equipment management.
It's great for tracking contractual documents and seeing if they correspond to the provisional list.
Kairnial allows you to structure and centralize all of your data, to monitor the performance of your projects.
And, it's accessible online from your phone or computer.
It allows you to manage the approval of contractual documents (called visa in French).
Procore
This collaborative platform streamlines processes from pre-construction to project completion.
It allows better anticipation of risks.
Procore helps you with Preconstruction (manage designs, budgets, and bids) & project management, with quality & security control.
You can identify & track critical costs and know the financial health of your project.
Capterra note: 4,5/5 ⭐
Dalux
Dalux is a good DMS.
It also offers a great free BIM viewer, allowing comments on the models and monitoring in real-time.
2D plans can be matched with 3D models, which makes it much easier to move around the model.
Integration of Revit, ArchiCAD, Navisworks, Tekla models, it also works with IFC files.
Capterra note: 4,8/5 ⭐
Bimsync
Bimsync is a great collaboration and Open BIM project management platform developed by Catenda.
It allows stakeholders such as architects, engineers, project managers & owners to receive up-to-date information.
It is a very easy-to-use tool, the 2D and 3D viewer is high quality and there is a BCF server.
So, it's also a tool to check the conformity of your models.
Cool UX, and it's a tool that's easy to use.
Bimsync Arena offers a free plan.
Capterra note: 4,5/5 ⭐
Dropbox
Yes, Dropbox is not originally a BIM solution, but it is increasingly used as a DMS in construction projects.
Dropbox is only partially a DMS because it does not impose naming, it should be seen as a simple sharing platform like Google Drive.
Yet, Dropbox Business allows you to consult and organize the plan in the field as well as exchange feedback with other stakeholders on the project.
Capterra note: 4,5/5 ⭐
BIM 360
Autodesk BIM 360 is part of the Autodesk Construction Cloud.
It enables you to work in a collaborative way with the models, it is mostly used in full Revit projects.
It allows you to reduce risks, improve the quality of your construction projects, and deliver projects on time and on budget.
There is a document naming feature.
For better visibility of issues and construction quality management.
To develop a standardized safety program that is easy to adopt by all.
Designate clear responsibilities for each step of the RFI (Request For Information) and submission process.
Capterra note: 4,3/5 ⭐
Trimble connect
Trimble Connect is a cloud-based common data environment (CDE) and collaboration platform, a stand-alone tool.
It's easy to learn and offers a large number of integrations, which enables data transfer between your favorite applications.
It is a DMS that manages the different versions of documents, with a viewer to visualize each document.
However, it does not offer approval management of contractual documents.
The little extra we liked, we can choose the location of the servers at registration, it's great in terms of the security of our data.
Trimble Connect could have a better UX and improve the loading time of the models and the visualization of those. More features would make it a more complete tool.
It can be connected to BIM collab.
And, there is a free personal plan.
Capterra note: 3/5 ⭐
Link to Trimble connect website.
Kroqi
Kroqi is a collaborative platform, which allows you to create projects for each activity of your organization.
Smooth communication, centralization of your documents by project, agile task management, shared calendar, meeting planning, and reporting.
Use Kroqi Drive to work offline.
It is a good solution for BIM submission, inexpensive, simple and effective for small and medium projects.
As for the viewer, you can download EveBIM and connect it to the Kroqi online platform.
Starter plan is free.
Axeobim
The BIM collaborative platform Axeobim is a DMS & CDE (Common Data Environment).
It's made for actors in the construction industry, from the project owner to the project management teams and general contractors.
Intuitive and advanced management of your validation circuits, management of access rights, and codification of your documents.
You can streamline the exchange of key information with all stakeholders and companies.
Everyone can see the models, plans, and other documents related to the construction site.
BCF management, viewer and UX could be improved.
---
So, after reading all this, do you want to know more about SeveUp App?
Whether you want to do analytics, BIM model checking, 4D planning, or other uses, this is a tool that adapts to your needs.
Have a look at our website.
You can test SeveUp App for free for 14 days, no credit card is required.